Welcome to The Log Church
Grace Lutheran Log Church is located near McGregor, Minnesota. It is a warm, welcoming Church in the great forests of Northern Minnesota in Aitkin County. We worship and receive communion every Sunday at 9:00 a.m. Everyone is welcome at Grace Lutheran, we love having visitors!
Grace Lutheran members pride themselves on being God's hands in this world. Our members are very active in many organizations in the surrounding area as well as within the church.
Grace Lutheran's mission is: through Grace we grow, share and spread God's love.
We would love to have you come and worship with us and work with us in God's kingdom!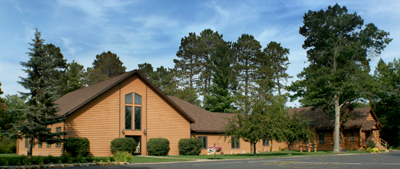 Cancelled until further notice | Sunday Worship | 9 a.m.
All Worship Services and meetings are cancelled until further notice.
BLOOD DRIVE

We are excited to announce that on May 20th, at McGregor High School, we are hosting a Blood Drive through the Red Cross. This will be a great opportunity to make a difference in these difficult times (and a great time to get out of the house). Our health care system needs this blood more than ever with many blood drives having been canceled in the past few weeks due to the COVID-19 Virus. The Red Cross is following all of the CDC guidelines and will provide masks for people who don't have their own.
To sign up, go to redcrossblood.org and type in the McGregor zip code (55760) and then click on the blood drive that is at McGregor High School on May 20th. Next, you just need to sign up for an appointment time. We have appointments from 8:00 a.m. - 2:00 p.m. Due to the virus, The Red Cross is not allowing walk-ins, so everyone needs to make an appointment. 
Thank you so much for considering a donation!
Emma Arnold and Karley Eld