Welcome to The Log Church
Grace Lutheran Log Church is located near McGregor, Minnesota. It is a warm, welcoming Church in the great forests of Northern Minnesota in Aitkin County. We worship and receive communion every Sunday at 9:00 a.m. Everyone is welcome at Grace Lutheran, we love having visitors!
Grace Lutheran members pride themselves on being God's hands in this world. Our members are very active in many organizations in the surrounding area as well as within the church.
Grace Lutheran's mission is: through Grace we grow, share and spread God's love.
We would love to have you come and worship with us and work with us in God's kingdom!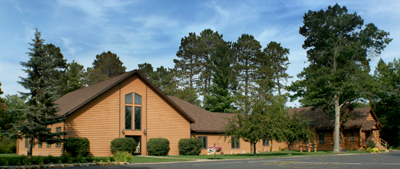 Worship Services at 9:00 am Sundays
Please remember mask and social distancing.
   "Our church is looking for an Administrative Assistant to replace Diane Eddy who is retiring on June 1. This position will support our future pastor, the Council and Congregation, by managing the Church office. This is a paid position working 15-18 hours a week. A full position description is posted on the fellowship hall bulletin board. If interested please contact Diane (426-3343) or any Council member. (Elizabeth Eddy, Walt Ford, Len Flesher, Joe Frauenshuh, Carole Holten, Lynette Maas, Dick Rohde, Ron Smith, Bev Streeter)"
Find Worship in the Home guides and sermons at the link above.