Welcome to The Log Church
Grace Lutheran Log Church is located near McGregor, Minnesota. It is a warm, welcoming Church in the great forests of Northern Minnesota in Aitkin County. We worship and receive communion every Sunday at 9:00 a.m. Everyone is welcome at Grace Lutheran, we love having visitors!
Grace Lutheran members pride themselves on being God's hands in this world. Our members are very active in many organizations in the surrounding area as well as within the church.
Grace Lutheran's mission is: through Grace we grow, share and spread God's love.
We would love to have you come and worship with us and work with us in God's kingdom!
 218-426-3343 or gracelutheranlogchurch@gmail.com
Sunday Worship Service  9:00 AM
Please contact Pastor Lorelie Robinson if needed at

her cell phone 218-851-1575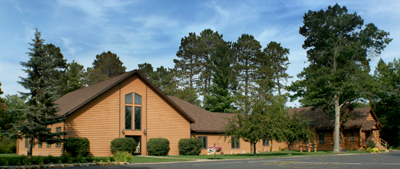 SUNDAY SCHOOL
Starts September 17 and continues every other Sunday!
WOMEN'S RETREAT - Spiritual Resilience
Saturday, September 30 • 9 a.m. to 4 p.m.
To register, call 218-426-3343 or e-mail gracelutheranlogchurch@gmail.com
Find more details here and here.
FLU SHOT CLINIC
Thursday, October 12 • 9 a.m. to 12 noon
Pre-registration is preferred. Find all the details here.