Welcome to The Log Church
Grace Lutheran Log Church is located near McGregor, Minnesota. It is a warm, welcoming Church in the great forests of Northern Minnesota in Aitkin County. We worship and receive communion every Sunday at 9:00 a.m. Everyone is welcome at Grace Lutheran, we love having visitors!
Grace Lutheran members pride themselves on being God's hands in this world. Our members are very active in many organizations in the surrounding area as well as within the church.
Grace Lutheran's mission is: through Grace we grow, share and spread God's love.
We would love to have you come and worship with us and work with us in God's kingdom!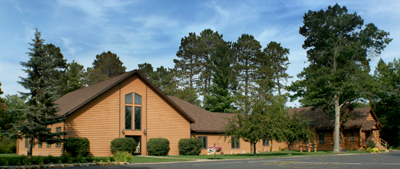 In-House Worship Services have resumed!

Please read below for guidelines for attending.
Remember if you are not feeling well, please stay home.
Communion Guidelines . . .

Because of the COVID-19 virus guidelines, our service is a little different so that we do all we can to keep everyone safe. We won't be singing or voicing responses during the service. Instead, the Lay Leader/Reader will voice our responses.
If you want to participate in Communion, pick up a wine and host from the table in the Narthex when you enter.
When entering the church you will be ushered to your seat. When the service is over, you will be ushered out.
All are required to wear a mask to do everything we can to keep each other safe.
Remember, if you are not feeling well, please stay home.
The following are some guidelines for attending services at Grace Lutheran . . .
Physical distancing of at least six feet will be implemented and maintained between all who enter Grace Lutheran for worship.
The following controls will be adhered to . . .
• Prior to worship the church's front door will be kept in the open position so no one will be required to touch or open the door.
• Face masks will be required to all that enter. If anyone does not have a face mask, one will be given to them.
• Hand sanitizer will be available to all upon entering or exiting the church.
• Worshippers may drop their offering in the plate upon entering or when exiting the church. The offering plate will be located at the back of church.
• Church services will only utilize every other pew.
• Ushers will designate where worshippers may sit by placing church bulletins in the pews prior to church service. Maximum seating would allow up to three couples/pew with one couple on each end of a designated pew with another couple in the middle of the pew. A family of four could occupy one end of the pew while a couple could occupy the other end.
• Worshippers will be required to fill in the pews from the front to the rear so as to avoid walking by people sitting in pews near the back. Conversely, worshippers will be directed to leave by ushers at the end of services starting at the rear of the church and moving towards the front.
• No coffee or fellowship activities will be provided prior to or at the completion of church services.
• Bathrooms will be available if needed, however, their use will be strongly discouraged.
• Volunteer cleaning staff will be provided nitrile gloves and disinfectant for disinfecting pews, collection plates, bathroom surfaces, light switches, door knobs, etc. at the conclusion of church services and after all worshippers have departed.
Remember if you are not feeling well, please stay home.
Thank you!
~ Worship & Music and your Council